Welcome to Clay County Bank, a community bank nestled in the beautiful Appalachian Mountains with a front porch view of the Elk River.  Clay, WV is the home of the Golden Delicious Festival and the Elk River Trail State Park. 
Clay County Bank offers customers and businesses a variety of banking products with big bank features and technology, while maintaining a down-home country atmosphere with friendly people and outstanding customer service.
Visit either of our two locations in Clay, West Virginia and enjoy your visit. While you're here, check out the many opportunities provided by picturesque Elk River.  Whether a leisurely canoe ride with family and friends, checking out one of the local fishing holes, or a stroll or bike ride along the beautiful Elk River Trail State Park, the beauty, charm, and opportunity of rural West Virginia will not disappoint!
News/Announcements
Stay up to date with our Blog/Announcements page.
Two Locations to Serve You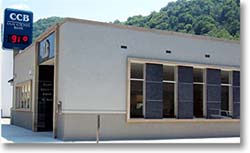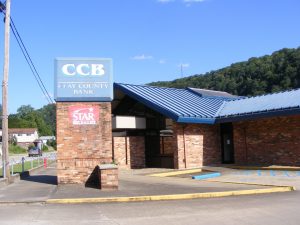 Get Online Banking with "myCCB"!
Check out the myCCB Page for details on our new and greatly improved online experience.  Download our mobile app for Android and iPhones! We've added many new features, improved security and integrated the user experience between browsers and mobile devices. We think you'll love it.
People First
At Clay County Bank, we put our customers first. We love our community and participate in many activities; this way we give back, stay connected, and most of all, we love our people.
Click, Call, or Come by and ask us about our mobile app, e-statements, and other products to make your financial life easier.
Are you considering buying a new car, home, or starting a business? We offer a line of consumer, real  estate and commercial loans. See the Loans Page for more information.